Home
Amateur Exams
Commercial Exams
BVE Group
Links
Repeater Info
RF Safety
RADIATION PROBE
Skywarn Info
Title IV-Spam
UK Wildcat Page
About KN4S
Session Info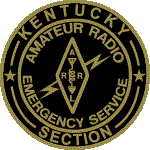 BLUEGRASS VOLUNTEER EXAMINERS
The Bluegrass Volunteer Examiners testing group was formed in July 1990, with 4 VEs, consisting of Harry Sparks/KN4S, Jim Odom/AC4FP, Tony Willoughby/WD4OWB, and Vernon Gibbs/W4JTL. Since that time, as of 9/13/08, we have conducted 83 sessions, utilizing a total of 68 different VEs, with 1000 total applicants, 1830 total elements, and 652 upgrades.
---
SESSION REQUIREMENTS
In order to take an exam, two forms of ID must be shown, one of which must be a picture ID, such as a driver's license. Minors who don't have a picture ID may furnish a birth certificate, School ID, Report Card, Library Card, or your parents may vouch for you upon presentation of their ID. If you know any of the VEs, they may also vouch for you. The test fee for 2009 is either $10.00, $14.00, or $15.00, depending on which VEC team is testing. This amount can be paid either by cash or check.

If you currently have an amateur license, you must furnish the signed original plus a signed copy. Your original will be checked and returned to you. The copy will be forwarded along with your completed NCVEC Form 605 and test papers. If you have a Certificate of Successful Completion of Examination (CSCE), you must also furnish the original and a copy.

Proof of General written test credit for currently licensed pre-3/21/87 grand fathered Technician class licenses can be verified by one or more of the following methods:

An original or copy of a pre-3/21/87 FCC Technician license.
An original pre-3/21/87 CSCE showing Element 3 credit.
An FCC issued license verification letter.
An International Transcription Service (ITS) FCC Records Contractor extract/certification from FCC fiche records.
A 1986 or earlier Call book listing, if year of publication is shown.
A printout from qrz.com from their 1993 CD ROM product, which shows Technician licenses with a(an) effective/beginning date prior to 3/21/87.
ULS on line filing is accomplished as follows: Applicants can submit updates to the FCC on-line via the internet/WWW at : http://www.fcc.gov/wtb/uls. Applicants must first register in ULS by following the "TIN/Callsign Registration" tab procedures, then choose "Getting Connected to ULS" and use their special dial-in to an FCC 800# modem only access system.

Should you choose to process your changes by mail, you may obtain an FCC Form 605 by writing ARRL, 225 Main Street, Newington, CT 06111. An SASE would be appreciated. Or you may obtain one from the FCC via the Internet at: http://www.fcc.gov/formpage.html; ftp://ftp.fcc.gov/pub/Forms/Form605/; by fax at 202-418-0177 (request form 000605); or the Forms Distribution Center at 800-418-3676. NCVEC Form 605 may only be used by testing teams.

If you desire to retest for any failed elements, you may do so by paying another fee, subject to the VE Team's approval. We do not advise testing for a failed element more than two times.

All theory test questions are taken from the current question pools. See the valid dates below to ensure that the material you are studying is current.

Question Pool Effective Dates

Technician (Element 2) Exam Pool is effective July 1, 2014 - June 30, 2018. Element 2 consists of 35 questions, with 26 correct required to pass.

General (Element 3) Exam Pool is effective July 1, 2015 - June 30, 2019. Element 3 consists of 35 questions, with 26 correct required to pass.

Amateur Extra (Element 4) Exam Pool is effective July 1, 2016 - June 30, 2020. Element 4 consists of 50 questions, with 37 correct required to pass.

Should you have any additional questions, please feel free to contact me by e-mail, Harry Sparks/KN4S
---